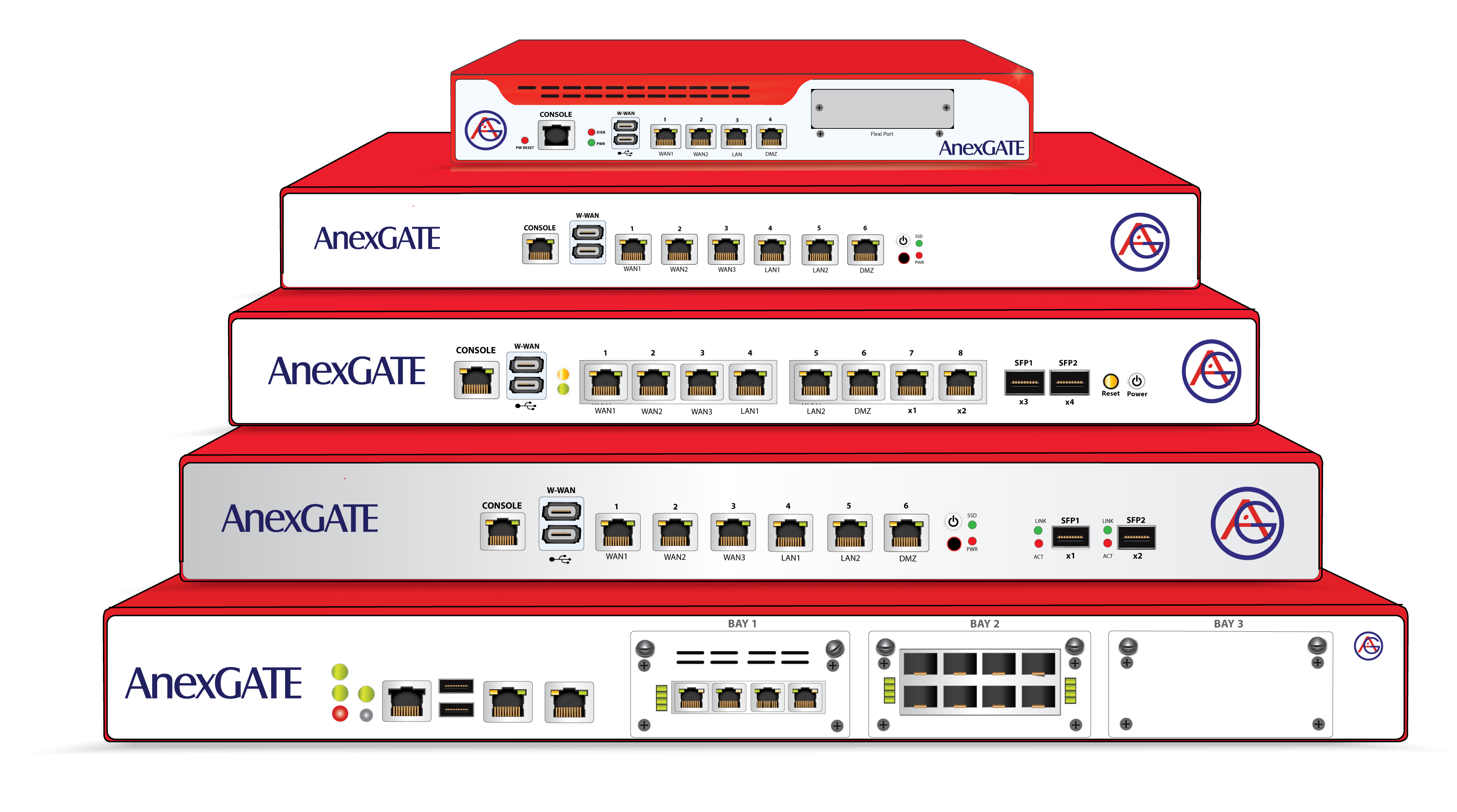 AnexGATE USG
AnexGATE USG is a Comprehensive Threat Management Solution designed to protect your network from external and internal threats as well as a Secure Connectivity terminal for all your internal communication. USG is purpose-built with the latest multi-core technology, generous storage and memory, provisioning and SSD. AnexGATE USG is unique, whether you're protecting a small Network or a Large Network /Enterprise. We ensure industry leading price, Flexibility, Performance & Users Management coupled with the highest level of threat management.
The appliances are built Compact, More Reliable with Low Power Consumption and can be placed in the office or your server room without any special arrangement.

A multitude of features helps to provide secure Internet access, with detailed built in logs and reports on every designed feature. AnexGATE ensure UTM is no more just a box but a user friendly, proactive solution
Whether you're looking for an all-in-one security solution for the office, or need next-gen firewall security for your growing business, USG can offer unprecedented value to your network. VPN-ready UTM-Gateways allow any number of Remote Locations to be linked securely and VPN dial-up accesses to be provided for secure access to the network.
NETWORKING

Multi Link Auto Fail over.
Support for 3G/4G :USB Dongle /Tethering
Weighted Round Robin & Policy based
Load balancing and Bandwidth Aggregation
Transparent Mode, Route Mode , ,L3 Bridge Mode
Configurable LAN/WAN/DMZ Ports
NAT- DNAT ,SNAT , 1 to1 NAT
Routing - Static, Source , Destination & Policy based
VLAN Tagging Support (802.1q)
Split Horizon DNS
TCP Session Adherence for Multi-WAN
LACP Link Aggregation(802.3ad)
L2 Bridge Mode
NetMap
NETWORK SECURITY

Stateful inspection Firewall
Application Visibility and Control (AVC)
Intrusion Detection and Prevention System [IPS]
Demilitarized Zone (DMZ)
Zone - based access control list
Access scheduling
Flooding detection and protection
Automatic P2P Detection and Filtering
Dynamic Protocol detection
Reverse Shell Detection
Strict DHCP Control
Detect & Block fake services on Ports
LAN user isolation
Zero Day / Malware Protection
WEB SECURITY

Application proxy with Web cache
Transparent Proxy (HTTP & HTTPS)
Inbuilt Web Category Database
Trusted Domains / URL / Wild Card Support
Custom category upload suppor
Safe search Enforcement
Group & User Based Web Access Policies
Time based Access control
Content Filtering based on Weighted Phrase
Private browsing support for management team
HSTS Aware Proxy
Domain Name based and/or Proxy Filtering
VIRTUAL PRIVATE NETWORKING (VPN)

IPSec VPN

Encryption: 3DES,AES 128/192/256-bit, AES GCM, Camellia
Hash algorithms: MD5, SHA1, SHA2, 256/384/512-bit,
PRFSHA1, PRFSHA256
Diffie Hellman modes:
1, 2, 5, 14, 15, 16, 17, 18, 22, 23, 24, 26, 32, 35
Authentication: pre-shared key (PSK),
IKEv1, IKEv2
Dead Peer Detection (DPD)
Perfect Forward Secrecy (PFS)

Secure SSL VPN

Support Encryptions : 3DES,AES (128 & 256),RC2, Blowfish, AES GCM
Support Message integrity : MD-5, SHA-1, SHA ( 256 ,384 ,512)
Multi-layered Client Authentication: Certificate & Password
Support TCP & UDP Tunnelling
Network access - Split and Full Tunnel Mode
Granular access control based on MAC , IP & Port
VPN client support for Windows, Linux & Mac OS
Support for mobile devices (Android, iOS)
VPN Site-to-Site
VPN Client-to-Site (Road-warrior)
High Availability support for VPN Servers.
Virtual VPN Container for Isolation
HIGH AVAILABILITY

Hot Standby (Active-Passive )(Active-Active)
Device failure detection and notification
Link monitoring & Heart Beat support
Preempt mode support
Auto-Sync configurations

LOGGING/MONITORING

Comprehensive local logging / On-Appliance Reporting
Email Alert - Multiple Mail Id
Real-Time traffic monitoring by Live network Meter
Built-in daily report
Graphical Bandwidth Report
( based on Time, Date, Week, Month )
Exportable formats - PDF, Excel, HTML
Network Tools - nmap, ping trace route, speed test
Graphical real-time and historical Monitoring

HOTSPOT/BYOD

AAA
Configurable Captive Portal
Multiple Authentication Mechanism
SMS-based login / Authorise with OTP
Time of day/day of week access rules.
Bandwidth & Policy Control based on user ID
Schedule based committed & burstable Bandwidth.
Access Tine / Time Quota /Data Quota Restriction
Implement fair usage policy on user.
Auto MAC binding to approved BYOD devices
Remember user after first authentication(Smart Login).
Option of MAC /IP /Device type Blacklisting
Authentication server :Local, LDAP, AD, Local + OTP
User accounts import/export via CSV

ROUTING

Static Routing
Priority Based Routing
RIP v1 / v2
OSPF
BGP

IDS/IPS

Automatic Hourly Threat Intelligence and Signature Updates
200000+ threats updated hourly
Custom IOC definition
Search for IOC in database

QoS

User/Group Based QoS
Application based Bandwidth Allocation
Define Custom applications

MANAGEMENT / GUI

Three levels of users - Admin, Operator/Monitor, Employee
Web UI (HTTP and HTTPS)
Configuration Backup & Rollback
Firmware upgrade via web GUI

TECHNICAL

COMPLIANCE: FCC Class B,CE Emission, UL/cUL, RoHS
POWER: 100-240V AC, 50-60Hz
CONSUMPTION 40 – 60w
HARDWARE: 1U Platform (Rack Mount)
USG Family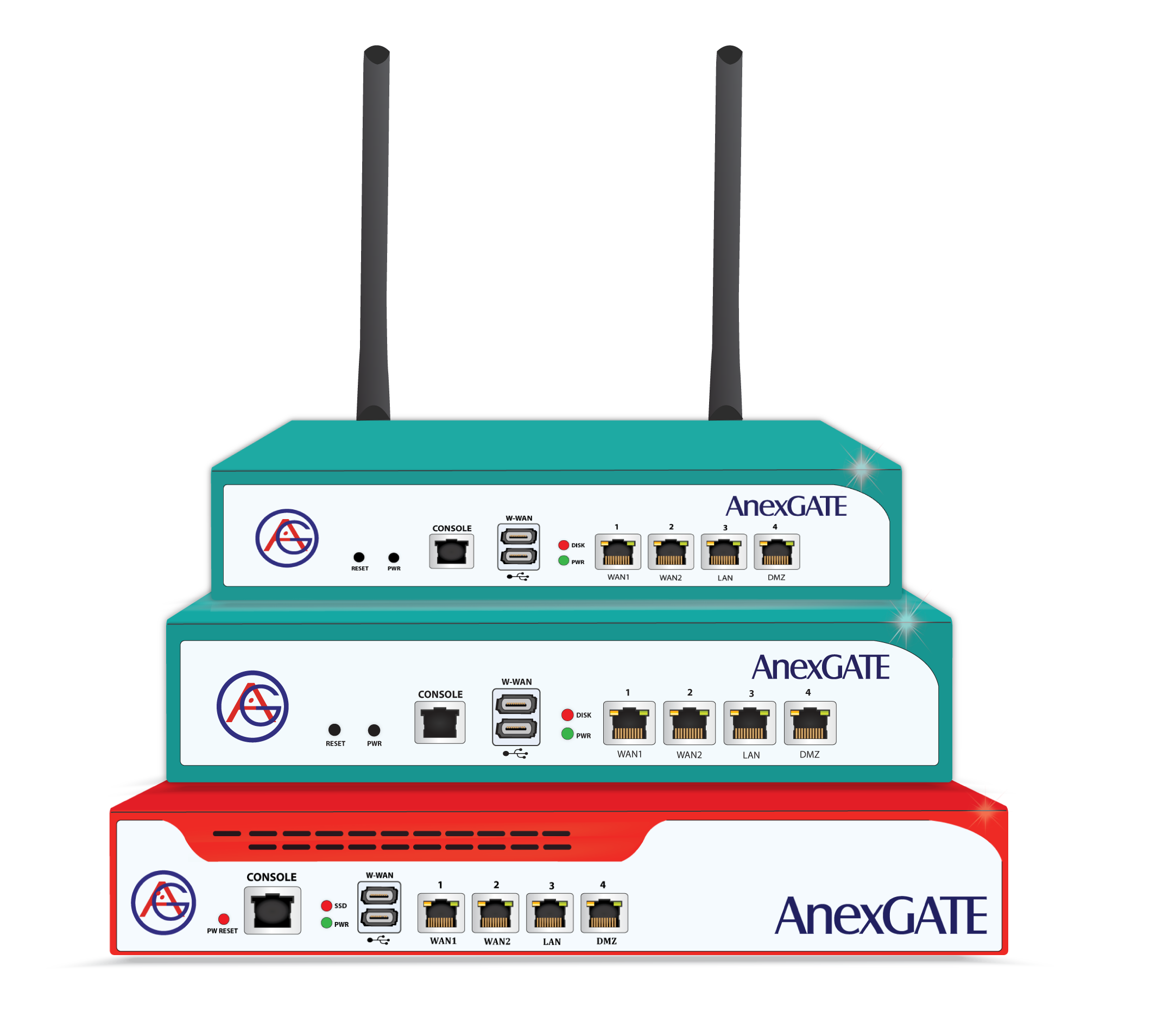 SMALL & REMOTE OFFICE
DEFINING CYBER SECURITY FOR SMALL NETWROKS
---
Our Small Network appliances designed for organisations that have a limited workforce but looking for the same infrastructure as a large organisation. These network appliances support all the security features of our larger appliances but in a compact form factor and at a fraction of the cost.
In addition to UTM features, AnexGATE small network firewalls are equipped with AAA / Hotspot functionalities for total user management on both wired and wireless network. 100% uptime is achieved by 4G /LTE modem & Hotspot. Appliances are Compact, Fan-less, More Reliable, Low Power Consumption and can be placed in office without any much special arrangement. It designed with feature to provide seamless failover between MPLS over Secure VPN on ADSL/4G without modifying the existing network.
---
MEDIUM SIZED ENTERPRISE
MODERN DAY NEXT GENERATION FIREWALL FOR EVERY OFFICE
---
In today's world, Cyber threats are same for all types of modern business. Hence, the firewall used in medium-sized and distributed organizations should support features like any enterprise class firewall and protect the network while being available at an affordable price.
With their flexible connectivity and scalability options, they are designed to adapt as your environment changes. Detailed built in logs and reports on every designed feature, helps ensure that UTM is a proactive and easy to use product advanced networking solution. Whether you're looking for an all-in-one security solution for office, or need next-gen firewall security for your growing business, our range of models can offer you the highest available features packet when compared to all other solutions in the market .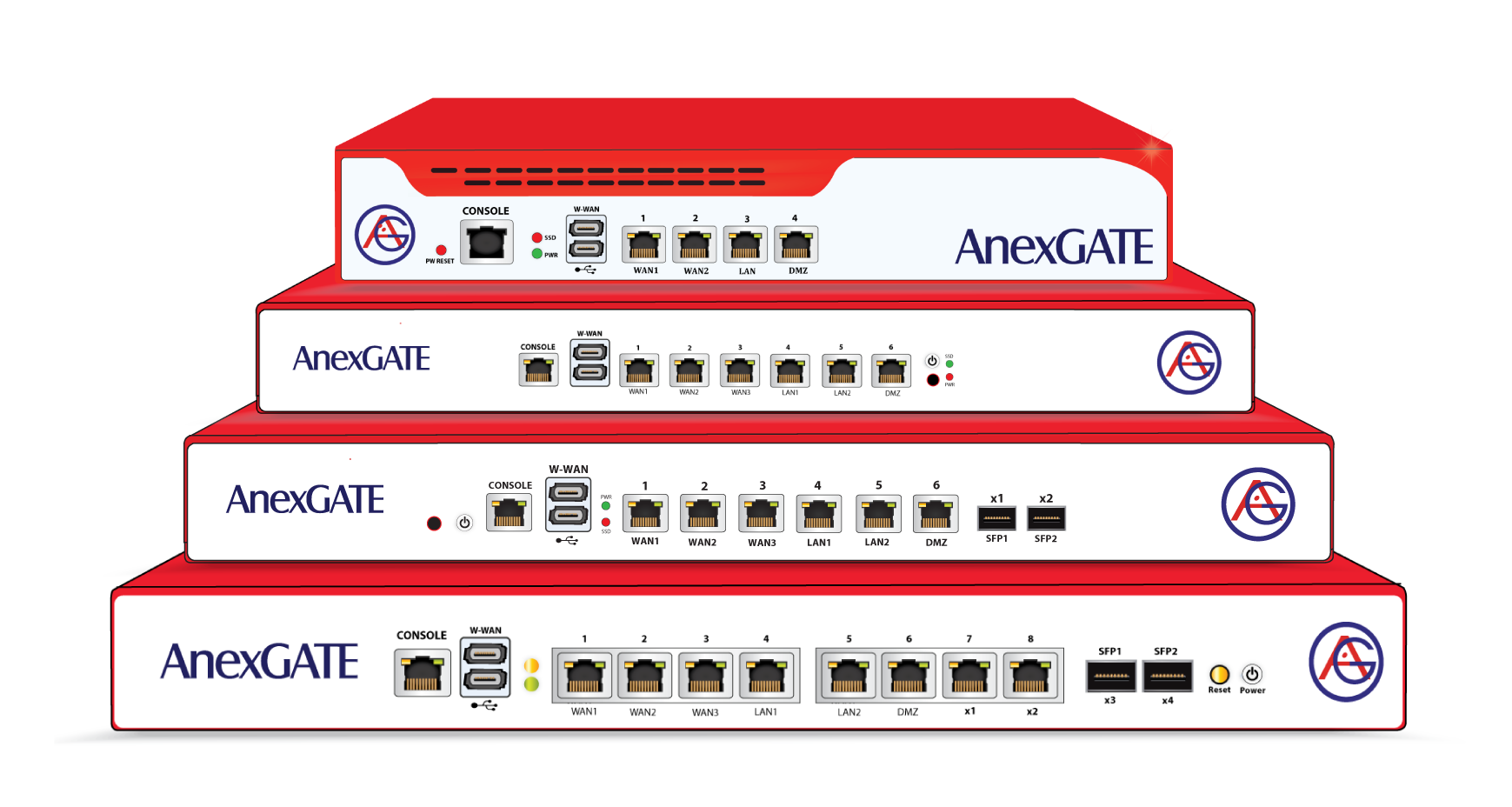 ---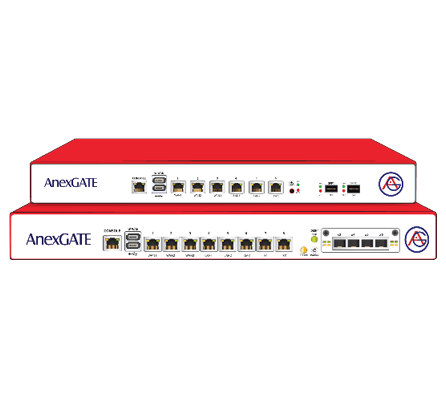 LARGE ENTERPRISE
VIGOROUS ON SECURITY ASCENDABLE ON USERS
---
For Large Networks, AnexGATE USG is designed to provide comprehensive network security solutions, keeping in mind the scalability and tracebility of the organisation. AnexGATE added value over providing a comprehensive solutions to meet customer IT needs on seamless failover between the private cloud and alternate Internet connection secure branch connectivity with 100% uptime and remote manageability coupled with 2x scalability.
AnexGATE USG's On-Appliance logs and elaborated reports on every configured features make it not just a UTM box, instead it is informative, proactive on security breaches, easy to use and provides granular control of the network.AnexGATE VPN-ready UTM-Gateways allow any number of Remote Locations to be linked securely and Secure VPN to be provided for secure access to the network.